---
Dr. Bob Hieronimus interviews Frank Boehm,
CEO, NanoApps Medical, Inc.
Frank Boehm, CEO of NanoApps Medical, Inc., will be interviewed by Dr. Bob Hieronimus, host of 21st Century Radio® in Baltimore, Maryland on Sunday, April 29th, from 8-10 pm EST. Dr. Bob and Frank will discuss Frank's first book on nanomedical device and systems design, as well as the three new books that he has in the works.
Further, Frank will discuss his larger vision for nanomedicine that may be someday manifest as Global Health Care Equivalency which may emerge through synergies between nanotechnology, nanomedicine, and AI. Also, how nanomedicine may eventually facilitate our exploration of the stars. Additional topics may well weave their way through the conversation as well. Hope you can drop by for a listen! Read more about Frank's work in nanomedical technologies.
---
See the White Buffalo
June 21st in Amesville, Ohio
Purchase your copy of Cynthia Hart-Button's book The Light Within: My Journey Home to the White Buffalo and receive free entrance to see the White Buffalo on June 21st for the Summer Solstice in Amesville, Ohio. Bring your book to have it signed. Call 1-805-400-7866 to make your reservation. Regular admission is $20.
---
Astrological Update from Rosemary Clark
interviewed by Dr. Zohara Hieronimus, DHL
Dr. Zohara Hieronimus, DHL, interviewed world-renowned astrologer Rosemary Clark on February 25, 2018, for a wide-ranging update on the relationship between current astrological happenings and what's going on in the political sphere right now. "[W]e've got a new group coming of age who are going to be the movers and the shakers and they're going to be voting for the first time this year." Read the full transcript.
---
Woodstock Bus VW Recreation
Seeks Artist Crew
Hieronimus & Co. is seeking five trained artists who are also curious, warm and articulate individuals to join the painting crew as we recreate a 1963 reconditioned VW camper bus into "Light," the Woodstock Bus for a feature film documentary, starting late summer 2018.
Location of the project is a barn in Owings Mills. Expected time frame of the painting job is from approximately August 15-31, 2018 through October-November, 2018. Read more.
---
Dr. Bob Hieronimus Interviewed About
Baseball Hall of Famer Leon Day
Dr. Bob Hieronimus was interviewed for the new book The Call to the Hall: When Baseball's Highest Honor Came to 31 Legends of the Sport by Kevin Warneke and David Ogden. He shared the story of his friendship with baseball legend Leon Day and the dramatic hospital-bed celebration of his election to the Baseball Hall of Fame in 1995. Like most Negro Leagues players, Major League Baseball had snubbed him by not electing him to the Hall of Fame, and after interviewing Day on 21st Century Radio®, Dr. Bob made it his personal mission to get him elected. Read more.
---
Watkins Mind Body Spirit Magazine
features White Spirit Animals
Watkins Mind Body Spirit is a quarterly magazine published by Watkins Books in London. Like the famous bookshop, the magazine covers a wide range of subjects from contemporary spirituality to self development and mysticism to Eastern philosophy. Each issue contains specially commissioned author's articles and interviews, alongside the very latest book releases.
Dr. Zohara Hieronimus' article with excerpts from White Spirit Animals features many photographs from the book. Read the article (PDF).
Visit Watkins Magazine online
---
Tribute to Bob Balser,
Animation Director of
the Beatles Yellow Submarine
In January of 2016 we lost a dear friend who was instrumental in one of the biggest projects of my life. This long posting is an overdue tribute to Bob Balser, a terrific artist and a superior human being, and the key person to my success in tracking down the history of the Beatles' Yellow Submarine. This film has occupied me since 1968, but it was not until 1991 when I met Bob Balser that I really began to understand it. Here's how that all came about.
---
21st Century Radio's
Upcoming World Exclusive
on the Great Pyramid
From the very beginning of 21st Century Radio in January of 1988 we have focused on the mysterious Great Pyramid in Egypt, why it was built, what is was used for, and especially how it was created. This Spring 2018 we continue a long tradition of interviewing scientists who challenge the traditional authority of Egyptologists as we invite several innovators and old friends in this field. Not only have they succeeded in proving how these megaliths were built, but they are also updating and translating these findings to the future. We are excited to present to our listeners the plans to use these same ancient building technologies to build similar structures for the space stations on the moon and Mars. Read more.
---
Was It Really 50 Years Ago Today...?
Hieronimus & Co. are proud to announce the return of the Yellow Submarine in 2018!
July 17, 2018 will be the 50th anniversary of the London premiere of the iconoclastic film, The Beatles: Yellow Submarine, and all our friends are coming on board for the party! Help us to help you to celebrate "All Together Now!"
Starting in January we will begin the countdown with random trivia question contests with real live prizes! Sign up now for alerts so you can get a jump on winning, and qualify for discounts on the new book. Read more.
---
White Spirit Animals Author Talk
Tuesday, December 12
Join Dr. J. Zohara Meyerhoff Hieronimus and the Friends of IONS to discuss her new book, White Spirit Animals, at Ruscombe Mansion in Baltimore, MD on Tuesday, December 12, 7-8:30pm. As a bridge between the spiritual and physical worlds, between humans and animals, White Spirit Animals are calling us to open our hearts to the wild, to the sacredness of the wind, the water, the Earth, and dream a new world into being to heal our own personal and collective wounds and restore the Earth to balance. RSVP to the Facebook event online and come to the talk!
---
Secret Life of Lady Liberty
Interview on OpEdNews
Author and artist Meryl Ann Butler, Managing Editor for OpEdNews, spoke with Laura E. Cortner and Dr. Bob Hieronimus, Ph.D., co-authors of Secret Life of Lady Liberty: Goddess in the New World, in a wide-ranging interview covering the book and the deadly imbalance in America's toxic patriarchy. Read the interview.
---
Impeach Trump
Sign the Petition
Donald Trump has brought us to the brink of nuclear war, obstructed justice, and taken money from foreign governments. We need to impeach this dangerous president. Help reach one million signatures—sign the petition.
---
We've Been Here Before
and Will Return
Again and Again
This is me in my Union US Cavalry Officer Civil War-era Hat and my Beloved Tricorn Hat from the Revolutionary Generation.
"When reincarnation and karma are truly understood, everything else follows of itself in the light of these truths." —Rudolf Steiner "Reincarnation and Karma" lecture. Berlin, March 1912
---
Dr. Bob Interviews Dr. Zoh
on White Spirit Animals
On October 15, 2017, Dr. Bob Hieronimus, Ph.D., interviewed his wife and 21st Century Radio® co-host Dr. Zohara Hieronimus, D.H.L., about her new book, White Spirit Animals: Prophets of Change, exploring shamanism, trans-species telepathy, and the animal wisdom urging us to restore an ethos of care to human society. Listen to the full interview or read the full transcript.
---
White Spirit Animals,
Dr. Zohara's New Book,
Comes Out October 17
Dr. Zohara Meyerhoff Hieronimus, D.H.L., has a new book coming out this month. It's called White Spirit Animals: Prophets of Change and explores shamanism and trans-species telepathy. Combining sacred elder lore, science, and her own telepathic dreams, Dr. Zoh looks at the special role played by White Spirit Animals in spiritual traditions and prophecy around the globe, where they are seen as guardians of animal wisdom, each with a special purpose and gift. The ethos of care has been lost from human society in general, and these terrestrial mammals urge us to restore it. Her recent article in The MOON Magazine goes into more depth about the enduring importance of this wisdom, especially today.
Pre-order at Inner Traditions or Amazon.
---
This much is already certain:
Donald Trump is guilty.
From Mother Jones: "The Trump-Russia scandal is the subject of multiple investigations that may or may not unearth new revelations, but this much is already certain: Donald Trump is guilty." Read the article at Mother Jones.
---
Unveiling the Secret Messages
from our American Goddess
Co-authors Robert R. Hieronimus, Ph.D. and Laura E. Cortner will unveil the messages from our American Goddess in this presentation on their new book, The Secret Life of Lady Liberty: Goddess in the New World. Tuesday, September 12, 2017 at 7:00 PM, at the Center for Spiritual Living in Reisterstown. Considering the Statue of Liberty, the iconic symbol of America, as a divine female, confident in her own power, will help you understand the intentions of our founding fathers and mothers when they chose this image to rally the revolution. Hieronimus and Cortner will break down the symbolism of America's "Mom," showing how we are all inseparable from the divine and from each other. From the goddess energy coursing through American history to the major influence of Native American philosophy on our concepts of "liberty," the Statue of Liberty inspires activism and asks "Where are your women?"
Hosted by the Baltimore Friends of the Institute of Noetic Sciences, location: 362 Main Street, Reisterstown, MD 21136. Suggested donation $7.00.
---
The Solar Eclipse and the President:
Headed for a Divorce from the USA
On August 13, 2017, Dr. Zohara M. Hieronimus D.H.L. interviewed world-renowned astrologer Rosemary Clark about the larger astrological influences affecting the 45th President, with a particular emphasis on the solar eclipse that took place on August 21, 2017. She also addressed the hate rally of white supremacists described as "Unite the Right" under the pretense of opposing the removal of a Confederate statue of Robert E. Lee that took place on August 12, 2017 in Charlottesville, Virginia where Clark lives. That day ended in the death of three people and the injury of many that went unreported as a result of the violence perpetrated by gun-toting, club-swinging white supremacists. Their chants of anti-Semitism, racism, and threats of a neo-Nazi / KKK uprising in America were not emphatically decried by the President, but instead they were given a powerful boost by his efforts to blame a few counter-protestors for resisting the intentional violence used by the white nationalists -- whom Trump endorsed by his failure to emphatically condemn. Read the full transcript.
---
Mural by Dr. Bob Hieronimus called "A Little Help From Our Friends" featured on the front page of the Baltimore Sun on July 19, 2017. Themes from "A Little Help From our Friends" are cooperation and compassion and the power of neighborhoods. It was designed on commission for the communitiy mediation and arbitration facility known as the Safe and Smart Center in Waverly in 1996 (restored in 2008). Gigantic portraits of some of the "Friends" and inspirations for peace seen in this photo include, left to right, environmental pioneer Rachel Carson, reggae prophet Bob Marley, Nobel poet Bob Dylan, and peaceful resistance pioneer Rev. Martin Luther King, Jr. Read the article or read more about the mural.
---
The Baltimore Sun featured an article about the search for the lost Light Bus in its Sunday, July 9, 2017 paper:
[Dr. Bob] Hieronimus, an Owings Mills artist and expert in esoteric subjects, has teamed up with a research group out of the State University of New York Maritime College and a documentary film producer to locate what remains of his creation [the Light Bus] and bring its message of "higher consciousness" back in time to celebrate the 50th anniversary of the festival that made it famous.
---
The Story of "Light,"
the famous "Woodstock Bus"
The Light Bus, a 1963 Kombi VW painted by Dr. Bob Hieronimus, Ph.D. and commissioned by Bob Grimm for his band Light to ride on tour, went to Woodstock and became part of the festival's iconography. It captured the mood and aspirations of a generation searching for its own identity and place, and appeared on the Woodstock Album inner sleeve. Photos of it have been featured in numerous articles and retrospectives about Woodstock, but where is the bus itself?
"The original bus, unfortunately, was last seen partially being held together by the paint job," says Hieronimus. "Its eventual demise is a bit of mystery to us in this day and age. It wasn't my bus, after all. I painted it on commission for Bob Grimm, who ... headed to England to tour with the Four Seasons ... today neither one of us can remember what eventually happened to the bus in the end. But we are determined to locate what's left of it and recreate it for Woodstock's 50th anniversary in August 2019."
Do you have any information that might lead to the discovery of the lost Light Bus? Contact info@woodstockbus.com. Reward offered.
---
Have you seen the Light Bus?
Reward Offered for any information leading to the discovery of the lost Light Bus. Contact info@woodstockbus.com
---
The Statue of Liberty
Protest Cartoons Continue
New cartoon including the Statue of Liberty vs. the 45th president. This one comes from our friend, animator Malcolm Draper, who was both a former assistant animator on the Popeye cartoon series in the 1960s for Halas and Batchelor, and later promoted to a full animator on the Beatles Yellow Submarine. His recollections of working on that film will eventually be included in volume 2 of Inside the Yellow Submarine: The Making of the Beatles Animated Classic. See more cartoons showing the Statue of Liberty vs. #45 on our blog about the Secret Life of Lady Liberty.
---
100 Statues of Liberty Protesting
Outside the US Embassy in London
Powerful images out of London this week as 100 Amnesty International activists, dressed as Lady Liberty, drew attention to human rights concerns during Trump's first 100 days in office. Read the article.
---
Our President Tells the Truth only 4% of the Time
What does that mean to American Liberty?
A revealing tour through recent
Statue of Liberty-themed cartoons and headlines...
---
The Forecast for Trump:
Trouble on the Horizon This Summer
Interview with Joyce Levine on 21st Century Radio® with Dr. Zohara Hieronimus, DHL, January 15, 2017. Highlight: "We have to be ready for a [financial] downturn around September. Trump's chart… is very challenged in the month of August. With the opposition to his Sun and the conjunction to his Moon, it's sort of like it's time to pay the piper. July, August, September, October, are particularly challenging for him." Read more.
---
Protesting Both With and Against
the Statue of Liberty
Many people are dressing up as Lady Liberty in protests around the world, and dozens of articles and blogs in the past few days are illustrated with pictures of the Statue of Liberty in distress. And it's no wonder our American Goddess is suddenly popular again – she's the obvious choice when symbolically opposing Mr. Trump's war of hatred on immigrants. Read more.
---
We Have a New President
Tonight's show on January 22, 2017 is the first one we've produced under the new empire. We have a new president. In hour one our guests are two wisdom keepers from the Iroquois tradition, husband and wife team Mohawk Doug George Kanentiio and Oneida Joanne Shenandoah, whom we are asking for guidance from both their prophecies for the future and their ancient past. Second hour, our international correspondent Joe Honick will review the return to 1930s-style nationalism displayed in the inauguration speech, and interference from the Russians in the election. While the majority of Americans do not support this new president, he has even less support around the planet. This solidarity AGAINST what he stands for was clearly demonstrated on both Friday and Saturday. Read more.
---
Impeach Trump Bumper Stickers

We have ordered 20 of these to be at the ready. Order now.
---
Existence is a Continuum,
Dr. Zohara Writes
Dr. Zohara Hieronimus' article Existence is a Continuum appears in the Winter 2016 issue of Species Link Journal. She writes:
"Animals, like indigenous tribal people, view existence and non-existence as a continuum. Animals, like many in the human population, are more concerned about the entire Earth and its ecosystems than themselves specifically. For instance, Bear, Wolf, Lion, Elephant, Whale, and Bison are all apex animals in their ecosystems. If any of them become extinct, everything under these capstone species dis­assembles. Their message to us, as I write about in my upcoming book on the White Spirit Animals, is 'to save as many of us as you can.'" Read the full article.
---
National Arts Club Presents
The Secret Life
of Lady Liberty
December 20, 2016
We are truly honored to be invited by the prestigious National Arts Club in New York City to give a visual presentation of "The Secret Life of Lady Liberty" on December 20th, 2016 at 8 PM. The event is open to the public, and one of our VIP guests will be Congresswoman Carolyn Maloney (D-NY), staunch supporter of gender equality and the essential message behind the Secret Life of Lady Liberty. Founded in 1898, the National Arts Club is located in the historic Samuel Tilden Mansion in Gramercy Park in New York City, and its membership has included many distinguished artists, composers, architects, and three U.S. presidents. Our talk will focus on how the Statue of Liberty is an Energizing Symbol, showing her used in political cartoons, in Hollywood disaster movies, and as a focal point of social protest movements. The Statue of Liberty stands for "us." Read more.
Read this bulletin for even more info about the event.
---
Lady Liberty and Public Art
at Baltimore's Mitchell Courthouse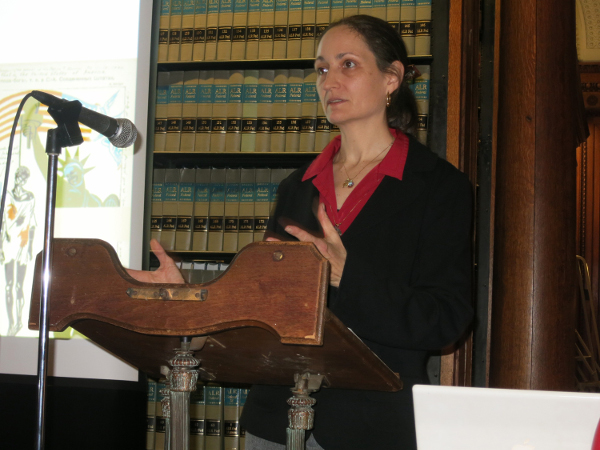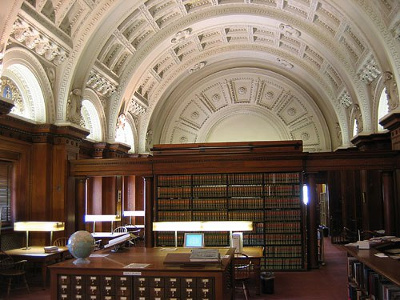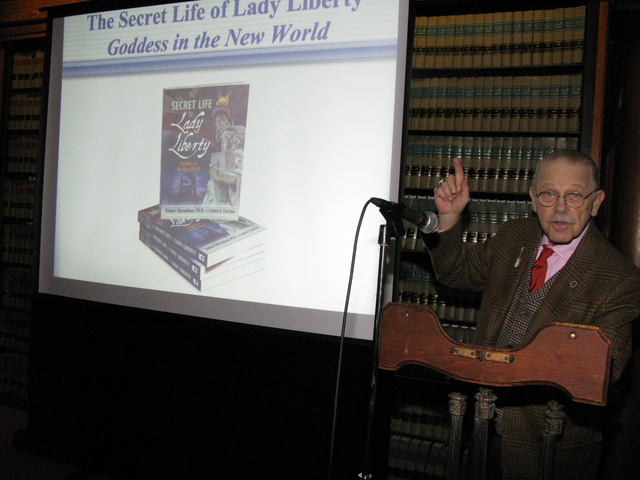 The Secret Life of Lady Liberty came to one of the most beautiful historic libraries in Baltimore on December 1, 2016. Co-authors Robert R. Hieronimus, Ph.D., and Laura E. Cortner presented a visual tour of their new book exploring the symbolism of the Goddess Lady Liberty, revealing why everyone claims the Statue of Liberty as one of "us," but most forget that she is GOD in female form. Read more.
---
Goddess in a New World article
featured in 11:11 Magazine!
Ever see 11:11 on clocks, or have synchronicity occur? Read 11:11 Magazine's new issue, with an article by the Secret Life of Lady Liberty authors Dr. Bob Hieronimus, Ph.D. and Laura Cortner. Get the magazine online.
---
Awarded a Michelin Star in 3 consecutive years,
now on to greater opportunities.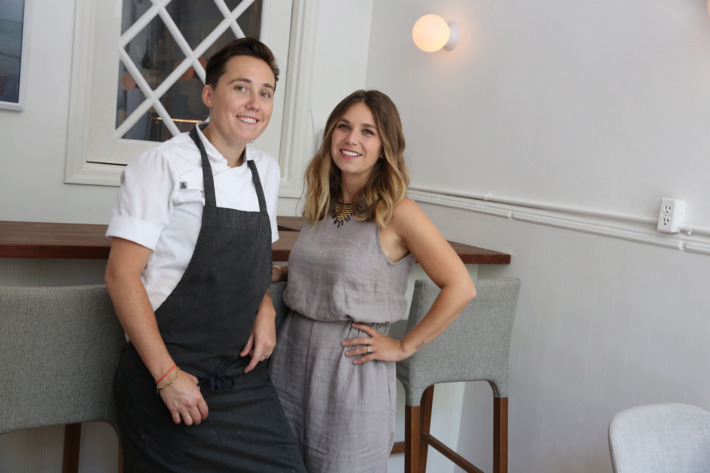 Photo: Michael Halsband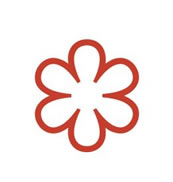 From Grub Street: After much success (including a Michelin star and much praise), "... chef Elise Kornack and her wife, Anna Hieronimus ... will permanently close their four-year-old restaurant, but it's a decision that they've made from a position of strength — business is better than ever. So why is now the time to say good-bye?" Read the full article.
---
Limited Edition
Leon Day Baseball Card
#LeonDay100
Don't delay! Get your 100th anniversary edition Leon Day baseball card today! Designed by renowned graphic artist, Gary Cieradowski, this card will surely be a must-have for baseball collectors. Only 100 cards are available for sale. 100% of the proceeds will go towards the Leon Day Foundation, Inc. to create opportunities for kids to engage with baseball in West Baltimore. The Leon Day Foundation, Inc., is a 501 (c)(3) nonprofit organization. Your donation is tax deductible.
The card's purchase price is $50.
You may purchase securely via Pay Pal.
---
Joanne Shenandoah Transplant Fundraiser
Oneida singer, composer, and acoustic guitarist Joanne Shenandoah has appeared on 21st Century Radio in the past. Besides her Grammy win and widespread acclaim, she has performed at the Vatican, and has been recognized for her work in environmental activism. Last summer, she was exposed to deadly bacteria, and her liver began to fail. She needs an organ transplant, and we here are supporting the fundraising campaign—please join us in making a donation.
Listen to her song "We Will Rise Up".
---
The death and rebirth of the Apocalypse mural is compared to the legendary
Diego Rivera's Man at the Crossroads
mural, ordered destroyed by
Nelson Rockefeller in 1933
Hieronimus & Co. received this exciting bit of news comparing the rebirth of Dr. Bob's Apocalypse mural to what happened to Diego Rivera and his mural Man at the Crossroads in 1933. Dr. Bob's doctoral committee chairman, Dr. Stanley Krippner, told us that while he was giving a presentation in Mexico recently, he compared the Hieronimus work to that of Diego Rivera, specifically, that both suffered from the destruction of their murals. Read more.
---
The Restored Apocalypse Mural
The historic Apocalypse mural by Dr. Bob Hieronimus at Johns Hopkins University, Levering Hall was fully restored in the summer of 2015, and on April 8, 2016 Johns Hopkins hosted an alumni weekend special lecture and tour of the mural. The mural tells a wide-ranging story and brings together symbols from many cultures and times. Read more about the opening and the mural.
The full-color guidebook includes detailed images, commentary, and full interpretation of most of the symbolism in this iconic mural. Learn more and purchase the guidebook.
Check out the 360-degree virtual tour of the mural here and our photo galleries of the restoration and the official opening celebration.
---
White Spirit Animals
Dr. Zohara's New Book
To Be Released In 2017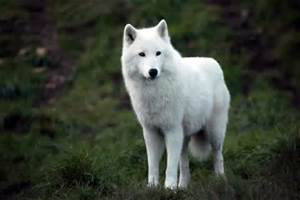 Dr. Zohara Meyerhoff Hieronimus, D.H.L, has been writing her book about the White Spirit Animals for two years (working title: White Spirit Animals: Prophets of the Wild, to be released in 2017 by Bear & Co.), discovering as Shamans do, that dreams are a bridge between all species and make it possible for everyone to talk with animals. "What I have learned is that animals know their own pre-Ice Age history and share it willingly with humans who listen. All of the White spirit animals are apex guardians of entire ecosystems. We must do everything we can to protect the Lion, Bear, Wolf, Bison, Elephant and Whale as each presides over Earth's major ecosystems, which, without them, will collapse more rapidly." Click here to read more.
---
Ziggy Marley and his band performed at the Baltimore Soundstage on October 13, 2014 during their "Fly Rasta" tour, and father and son Hieronimus attended with photographer Stuart Zolotorow and enjoyed it immensely with the sold out crowd. See more...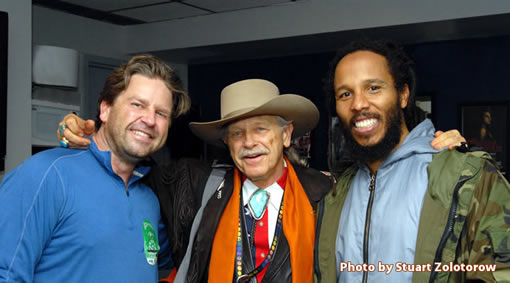 ---
Now you can take home an affordable memento of one of Dr. Bob's most famous Artcars! But we warn you: playing with them can be addictive!
$10 each, choose from four different sides. Autographed by the artist!
Learn more about the "Woodstock Bus" here, and more about the "We The People" Artcar here.
---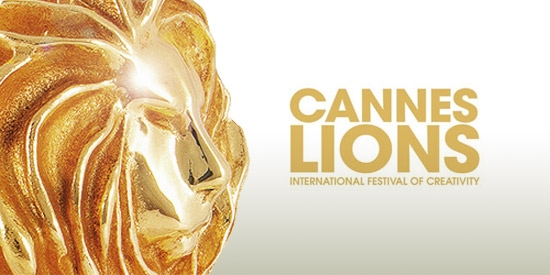 Dr. Bob and Zohara enjoyed entertaining the film crew from Brazil that visited in February of 2014 to interview Bob about his Woodstock Bus memories. But they never imagined the films that were produced would win seven Lion Awards, including two golds, at the International Festival of Creativity in Cannes, the world's most renowned advertising festival! Congratulations to Spray Filmes and the PR firm ALMA BBDO for creating such an emotional tribute in honor of the world's final goodbye to the Kombi vans. Click above to see the tribute to Dr. Bob, and click here to read the full article and see the longer film where the narrator calls Dr. Bob "one cool dude."
---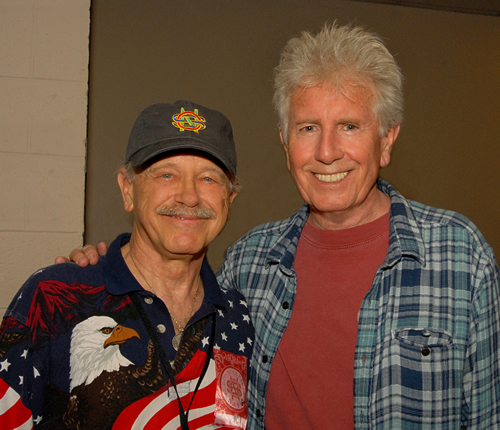 Photo by Stuart Zolotorow
"I enjoy being on 21st Century Radio with my friend, Dr. Bob Hieronimus because we need people who are putting the truth in front of our faces. We need leaders. We need great voices on the radio, and Dr. Bob is one of them."
All that follows are direct quotes from Graham Nash's appearance on 21st Century Radio® with Dr. Bob Hieronimus on November 4, 2012 when they reviewed "The Art of Graham Nash" exhibit in NYC.
"Global warming: It is a very touchy subject. There has been an incredible crusade of climate deniers that are ruling the airwaves and leading people to believe that it's inconclusive science, that it's all poppycock, that it's just not true. And I believe those people will be seen in the future as incredible obstacles to waking up to the fact that our climate is changing.

And don't forget it's not just Exxon or the oil companies. It's the Koch Brothers, and the other billionaires that have holdings in making money from the environment in coal and uranium. The oil companies are a large part of the problem, but they are only a part of the problem. The biggest problem is the America public so far, do not believe that the climate is changing. And with the superstorms like Sandy coming, it's getting mad out there. Anybody with a brain has got to make the connection between carbon dioxide in the atmosphere affecting the actual climate of the entire planet."
Read more of this transcript of their 11/4/12 radio show online here...
---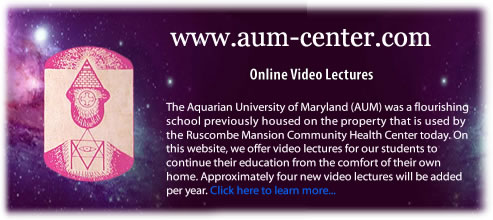 ---
---
---

---
Visit the remodeled

New Writings & Photography

Photography, radio broadcasting, published and private writings, and spiritual teachings from Zoh Hieronimus

Now Online - Vintage Video

Artist of Savitria

1971 PBS Special on Dr. Bob
---